THE DOCK ELLIS BAND'S FIRST FULL-LENGTH ALBUM,
"BAD SONGS AND WALTZES"
Bad Songs and Waltzes
The Dock Ellis Band
The Dock Ellis Band sounds like a honky tonk jukebox...back when dimes were actually made of silver.
However, there are two sides to this coin. Half of the material is true, classic country from tear jerking ballads to wistful waltzes, drifting cowboy songs to raucous, stomping outlaw tunes.Then there's the underside of the coin. It's a dark, humorous side that some have even described as, "subversive".
Humor has always been an important element in country music even before Jimmie Rodgers recorded "Pistol Packin' Papa" in 1930 with the lyrics, "Now girls, I'm just a good guy, and I'm going to have my fun, and if you don't wanna smell my smoke, don't monkey with my gun!" Well The DEB has songs about guns; not to mention songs about bass players born in dumpsters, gamblers with missing thumbs, drunk pregnant women and a man so desperate for affection, he's pleading to be kidnapped and molested.
That and more is in store for you if you download The Dock Ellis Band's first full-length studio album, "Bad Songs and Waltzes".
Recorded at, Native Sound, Saint Louis, Missouri, March 2013 Engineered by: David Beeman Produced by: David Beeman and The Dock Ellis Band Mastered by: Blue Jade Audio Mastering, Saint Louis, Missouri Album Art by: Jeff Robtoy w/ technical assistance from Mike Hansen
The Dock Ellis Band are:
Jesse Irwin: electric guitar, vocal Justin Brown: electric and acoustic guitar, vocal Tim Sullivan: piano, tack piano and Wurlitzer Adam Dick: Precision Bass Guitar Ryan Adams: drums David Anderson: (special guest) pedal steel guitar
Read more…
close
0:00/3:24

0:00/3:28

0:00/4:05

0:00/2:58

0:00/3:14

0:00/5:32

0:00/2:24

0:00/3:33

0:00/2:57

0:00/4:36

0:00/3:32

0:00/3:38
In September 2013, The DEB stopped into Daytrotter Studios in Rock Island, IL. It was a gorgeous day in Northern Illinois with beautiful blue skies the color of a dying man's face. Crack engineer, Mike Gentry flipped the switch on his two track tape machine and let us dick around for a while. Then he made it sound like a real record.
Then to add whatever the opposite of insult is to whatever the opposite of injury is, Daytrotter went and named "Drinkin' To Forget" as one of their Top 300 Songs of 2013. That's out of over 1,200 bands and almost 5,000 songs, folks!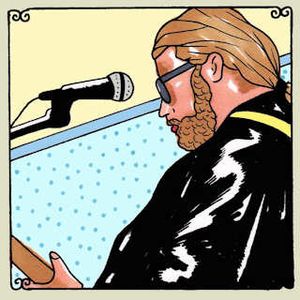 Thanks to Mike Gentry, Sean Moeller, Johnnie Cluney and everyone else at Daytrotter for the appreciation and for letting us play. 
0:00/3:23

0:00/3:02

0:00/2:51

0:00/3:32
Jesse Irwin and the West Memphis Country and Western Ska Destroyers
Our old buddy, Paul Stark (former host of KDHX radio's "Ska's the Limit") dropped off this little gem the other day.
It's the one and only performance of
Jesse Irwin and the West Memphis Country and Western Ska Destroyers
we opened for The Toasters and Deals Gone Bad in 2007 at the Ska's the Limit 17th Birthday Party with this sarcastic little set.

You can download it for FREE

The West Memphis Country and Western Ska Destroyers featured:

Chris Diebold of MU330 - bass
Michelle Rae of Isaac Green and the Ska-lers - bari sax
Bill and Vera Chott - hype and backing vocals
Justin Brown - guitar and vocals
Tim Sullivan - piano
Ryan Adams - drums